9 - 11 and 13 - 15 is clear glass, this section explains Window 12
12. North: The Church and State. A magnificent four-light commemorative window for both Prince Albert, d.1861, and for Queen Victoria's Diamond Jubilee in 1897.
In the rose at the head of the window the dove of the Holy Spirit is shown surrounded by eight rejoicing angels. In the two lower roses are the arms of Saxony and of Prince Albert of Saxe-Coburg-Gotha who, on becoming Prince Consort, superimposed the arms of Saxony on the Royal Arms.
The figures selected to represent the Church of England were carefully chosen as follows:
Left to Right:
St Gregory the Great, Pope (590-604), holding a Gregorian psalter and an archiepiscopal cross; he restored Christianity to South East England after its extinction by the heathen Saxons.
St Ethelbert, King of Kent (590-616), holding an orb and sceptre, symbols of royal authority. He was converted to Christianity by St Augustine whom Pope Gregory sent as a missionary.
Stephen Langton, Archbishop of Canterbury (1213-1228), whose name heads the list of those barons who persuaded King John to sign the Magna Carta, a copy of which he holds.
William of Wykeham, Bishop of Winchester (1367-1404), with a crozier in his left hand, was ordained in the chapel of Winchester House, which stood to the west of the cathedral. He founded New College, Oxford, and Winchester College of which he holds a model.
Below the four figures are the Royal Arms of Queen Victoria (1837-1901), the arms of Albert the Prince Consort, the See of Canterbury and the See of Winchester.
Maker: Charles Eamer Kempe 1898. Kempe's maker's mark, a wheatsheaf. Appears twice: low in the right border of the left centre light, and immediately below the rose in the centre of the tracery.
Note: The surrounding borders, which figure dramatic moments in the lives of selected to represent the Church of England.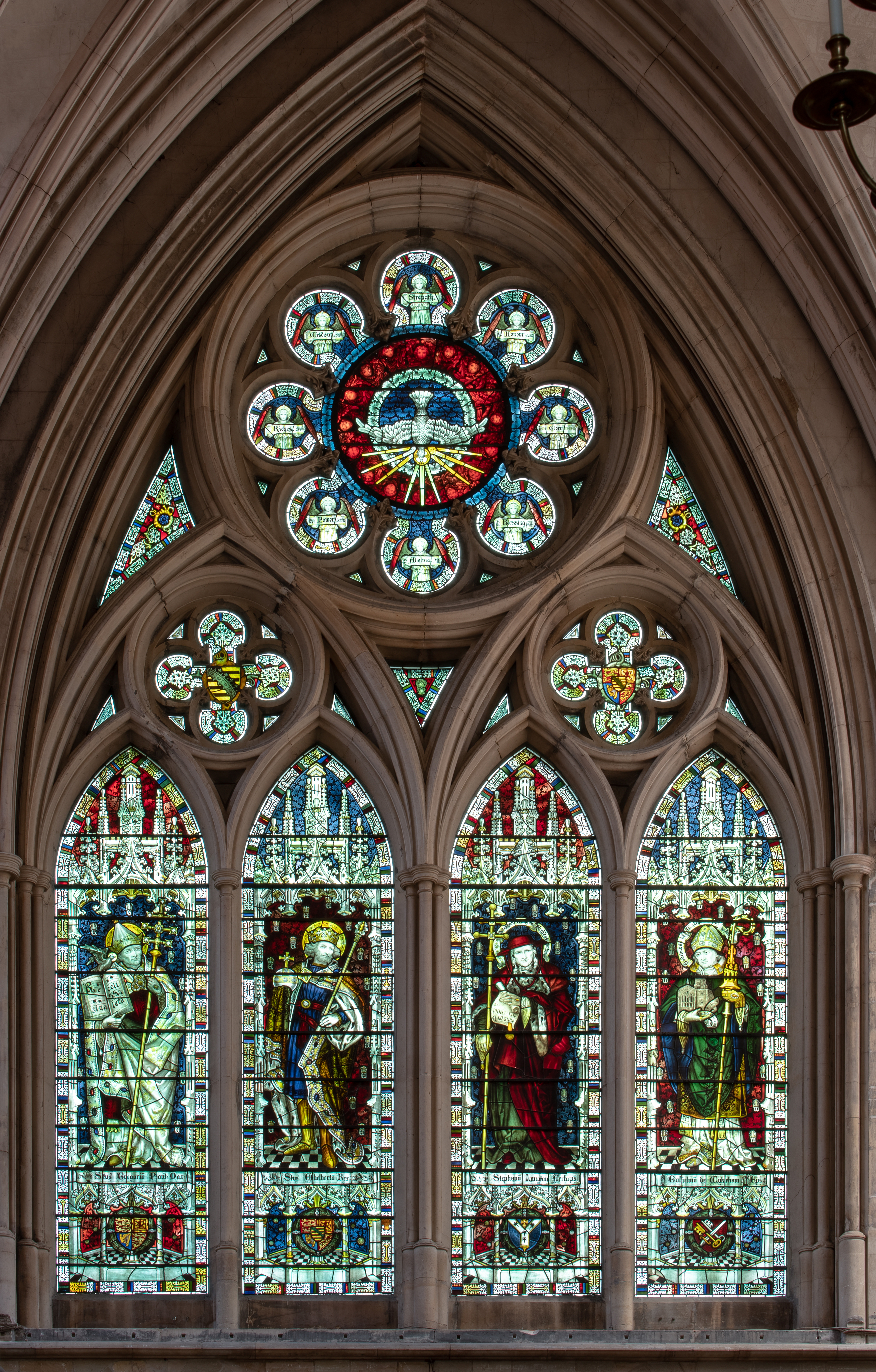 Windows 13 - 15 is clear glass.