Each year the Cathedral organises an opportunity for people to make a pilgrimage
In previous years we have been blessed to visit Turkey, Greece, Syria, Rome and Assisi, Oberammergau, Armenia, Georgia, Santiago de Compostela, Jordan and Sinai.
To mark the 500th anniversary of the Reformation The Very Revd Andrew Nunn, Dean of Southwark led a group to Germany in May 2017 to visit places associated with Martin Luther.
In May 2011, 2013, 2016 and 2018, 2019 and 2020 we went on a pilgrimage to the Holy Land.
Pilgrimage to Canterbury Cathedral
23 May - 29 May 2020 (Postponed until 2021)
2020 marks an important dual anniversary for the extraordinary figure of Thomas Becket. It will be 850 years since his dramatic murder on the 29 December 1170 in Canterbury Cathedral, and 800 years since his body was moved on the 7 July 1220 from a tomb in the crypt of the cathedral into a glittering shrine.
The events of 1220 were orchestrated to relaunch the cult of Becket, and ensured that Canterbury became the principal pilgrimage destination in England and one of the major pilgrimage sites within Europe.
Thomas Becket gave his last sermon at Southwark Cathedral, then set off for Canterbury on the Pilgrim's Way
Joined by the Dean, the Very Revd Andrew Nunn, this pilgrimage will take the route of the pilgrims from Southwark to Canterbury.
During our walk we will gather pilgrim's stamps at various locations and there will be time for worship together lead by the Dean.
The cost is £100.00 per person for the 8 day walk or £15.00 per day where you can choose what day's to join us.
For further information about this exciting new pilgrimage please visit the link here or contact Kate Dean.
Oberammergau 2020
26 June 2020 - 3 July 2020 and 2 September - 9 September 2020 (Postponed until 2022)

Every ten years the people of the Bavarian village of Oberammergau fulfil their vow to God made in 1634 in thanksgiving for deliverance from the plague that was ravaging Europe by performing a Passion Play. Watching the play is an overwhelmingly powerful experience. As in the past we are organising two 'pilgrimages' to Oberammergau in 2020 and booking for them opens today.
The first is with the Dean, The Very Revd Andrew Nunn from 26 June – 3 July staying in the Tyrol and walking a section of Jacobsweg (the Austrian route of the Camino to Santiago) as well as visiting sights from the 'Sound of Music' in Salzburg. The second is with Canon Michael Rawson and Canon Gilly Myers from 2–9 September staying in St Gilgen on beautiful Wolfgansee with visits in the local area, lake steamer and mountain railway and a 'Sound of Music' tour of Salzburg and other locations in the area. Brochures for both pilgrimage-holidays, each of which lasts a week, are available in the Cathedral and downloadable from the website.
You can secure a place for a £200 deposit.
The brochure for Oberammergau 2020 can be downloaded here and a booking form here.
Please note that all single rooms for this pilgrimage have now been booked.
A Pilgrimage to Bulgaria
17 - 26 September 2021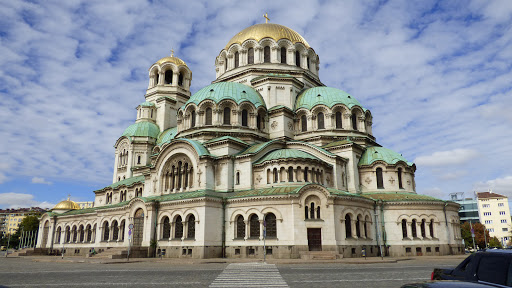 Bulgaria is one of Europe's oldest nations and is well known for Black Sea beaches and red wine, but it is also a wonderful place to go on pilgrimage. This pilgrimage, led by the Dean of Southwark, the Very Revd Andrew Nunn, will take us around the country visiting Thracian and Roman remains but also wonderful churches and some of the 170 active monasteries spread across the country.
We will see roses being cultivated for the famous rose oil and people still using horses and mules for travel and the movement of goods.
It is a beautiful place and one in which we will discover more of Europe's Christian story.
The brochure for Bulgaria 2021 can be downloaded here and a booking form here.
The above image shows the Alexander Nevsky Cathedral in Sofia.
Please send completed booking forms to:
Mr Mark Charlton
Pilgrimage Administrator
Trinity House
4 Chapel Court
Borough High Street
London SE1 1HW
Please email Mark Charlton for further details.