On this page you can find out more about the different artists, their studios and makers marks
BREIDFJORD, Leifur, b.1945, of Reykjavik, Iceland.
Breidfjord trained in stained glass at Reykjavik College of Arts and Crafts, and then at Edinburgh College of Art under the tutelage of Sax Shaw. As an independent glass artist he has pioneered contemporary stained glass design in Iceland. Major works are Breidfjord's window in St Giles' Cathedral, Edinburgh (1985) and at the international airport at Keflavik. His work can also be seen in churches and secular buildings across Iceland.
His maker's mark is usually a signature and date in the bottom right hand corner.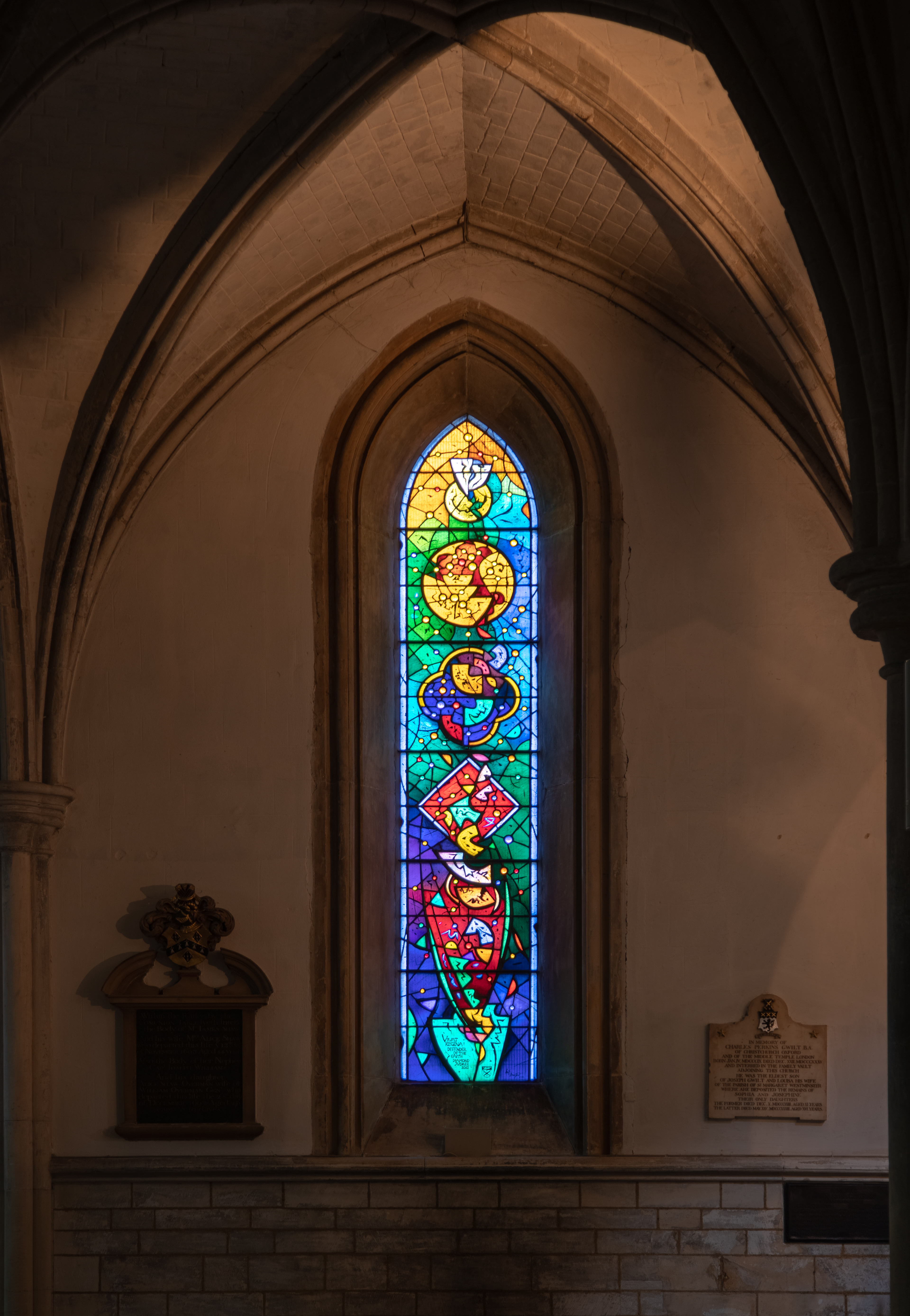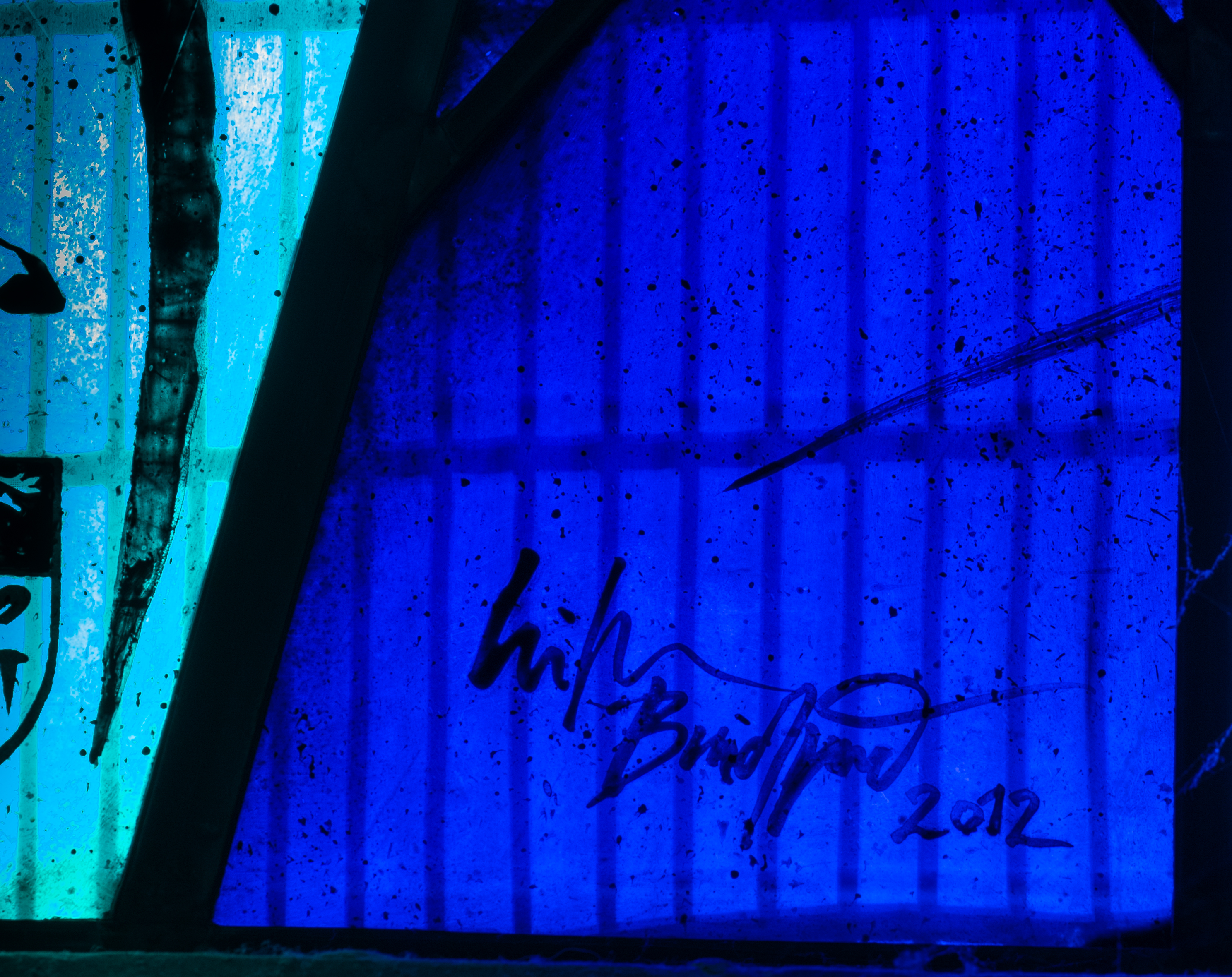 COMPER, Sir John Ninian, 1864-1960, of London.
Trained as an architect under G.F.Bodley and as a stained glass designer under Kempe; he in turn considerably influenced a whole school of artists including Christopher Webb, Geoffrey Webb, Martin Travers and Hugh Easton.
Whilst he has windows in Canterbury, Exeter, St Albans and Southwark cathedrals, Westminster Hall, All Saints Pastoral Centre near St Albans and Many English churches, some experts consider his principal works are in St Cyprian, Clarence Gate, London; St Mary, Wellingborough; the Welsh National War Memorial, Cardiff, and St Philip Cosham, Portsmouth. He was knighted in 1950.
Comper has reportedly always shown Christ beardless; his maker's mark, a strawberry fruit, flower and leaf, is to be seen in the bottom right hand corner of his windows.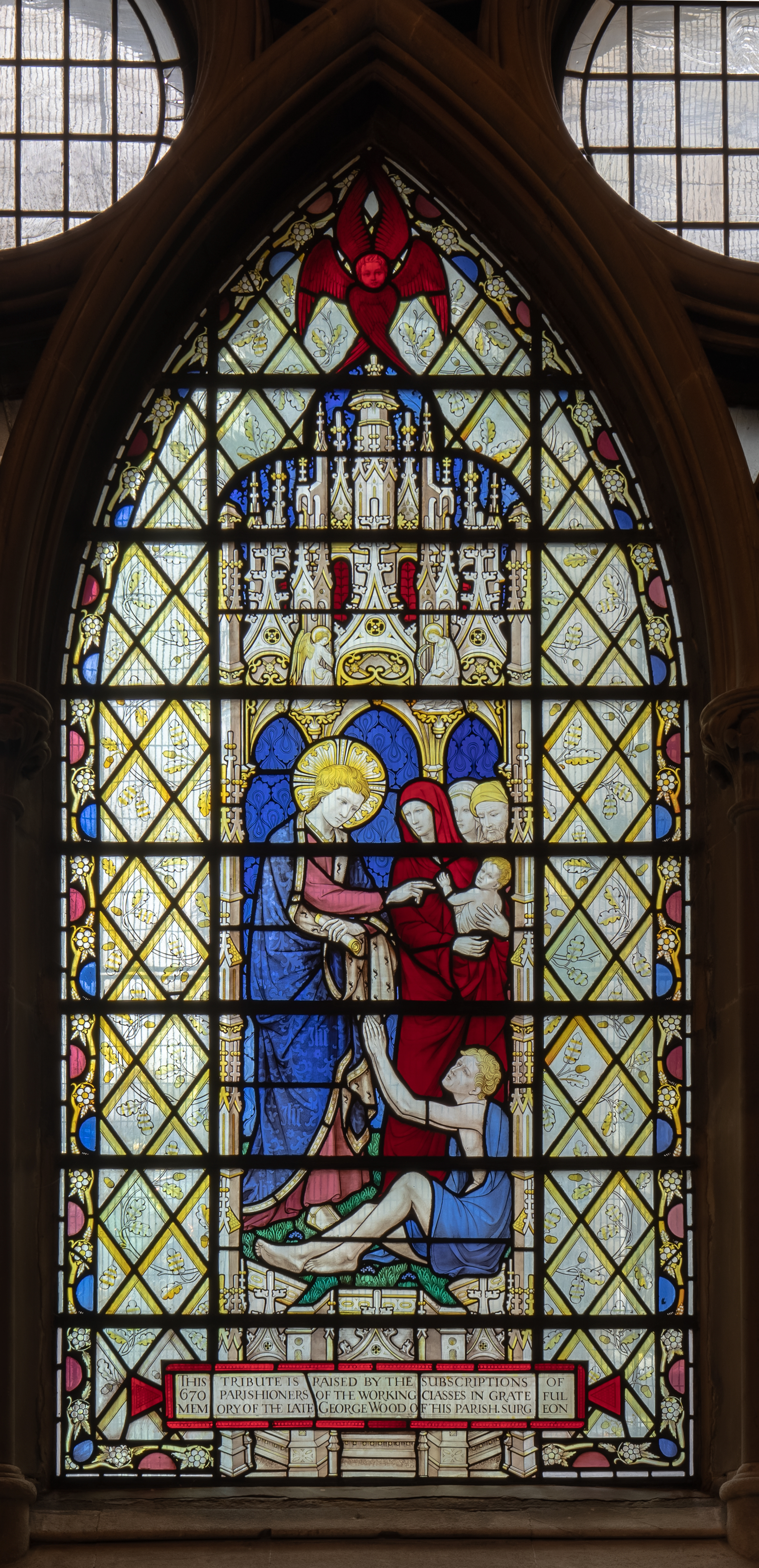 FINN, Ben, b. 1964, of Wickham Bishops, Essex.
A self employed glass artist whose specialism is new ecclesiastical commissions, Finn is noted for his fine painting techniques and use of many different styles of lettering along with a strongly individual colour sense. The Garry Weston Library in Southwark Cathedral which house Finn's Millennium window is not normally open to the public. However Finn's windows can be seen in St Francis of Assisi Church, Notting Hill; All Saints, Broughton, Cambs; St Peter and St Paul, Osyth, Essex and in several other parish churches.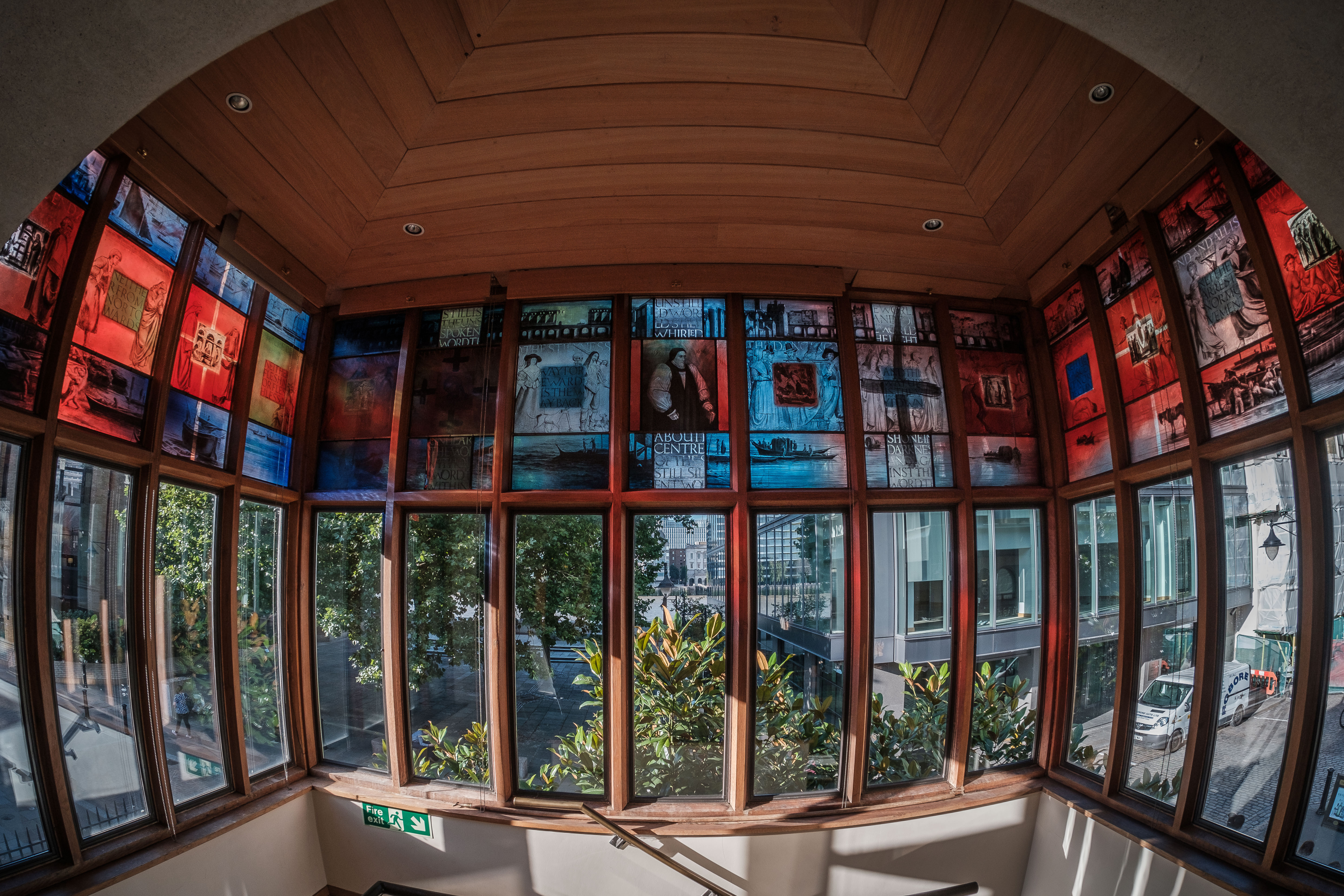 GERENTE, Henri, 1814-1889, of Paris.
In 1846, after having his designs executed by A. Luson and others, Henri Gerente set up his own stained glass workshop. On his death his brother Alfred (1821-1868) succeeded him. Both used antiquating techniques such as the application of matting to give a medieval appearance. Apart from five windows in Ely Cathedral there is very little Gerente glass in the United Kingdom – imported in the 1850s and early 1860s.

HARDMAN, John and Co., 1845-2008, of Birmingham.
John Hardman, 1811-1867, founded an ecclesiastical metal works in Birmingham in 1838 and took on stained glass manufacture in 1845. The architect A.W.N. Pugin was Chief Designer until his death in 1852, when he was succeeded by Hardman's nephew John Hardman Powell, 1828-1895. The last of Hardman's descendants died in 1959, but the firm continued until 2008. In addition to Southwark Cathedral, there are Hardman windows in the cathedrals of Canterbury, Liverpool, Northampton RC, Norwich and St Albans, in Ely Stained Glass Museum and in many churches and secular buildings throughout the United Kingdom.
Some windows are signed with the firm's name at the base.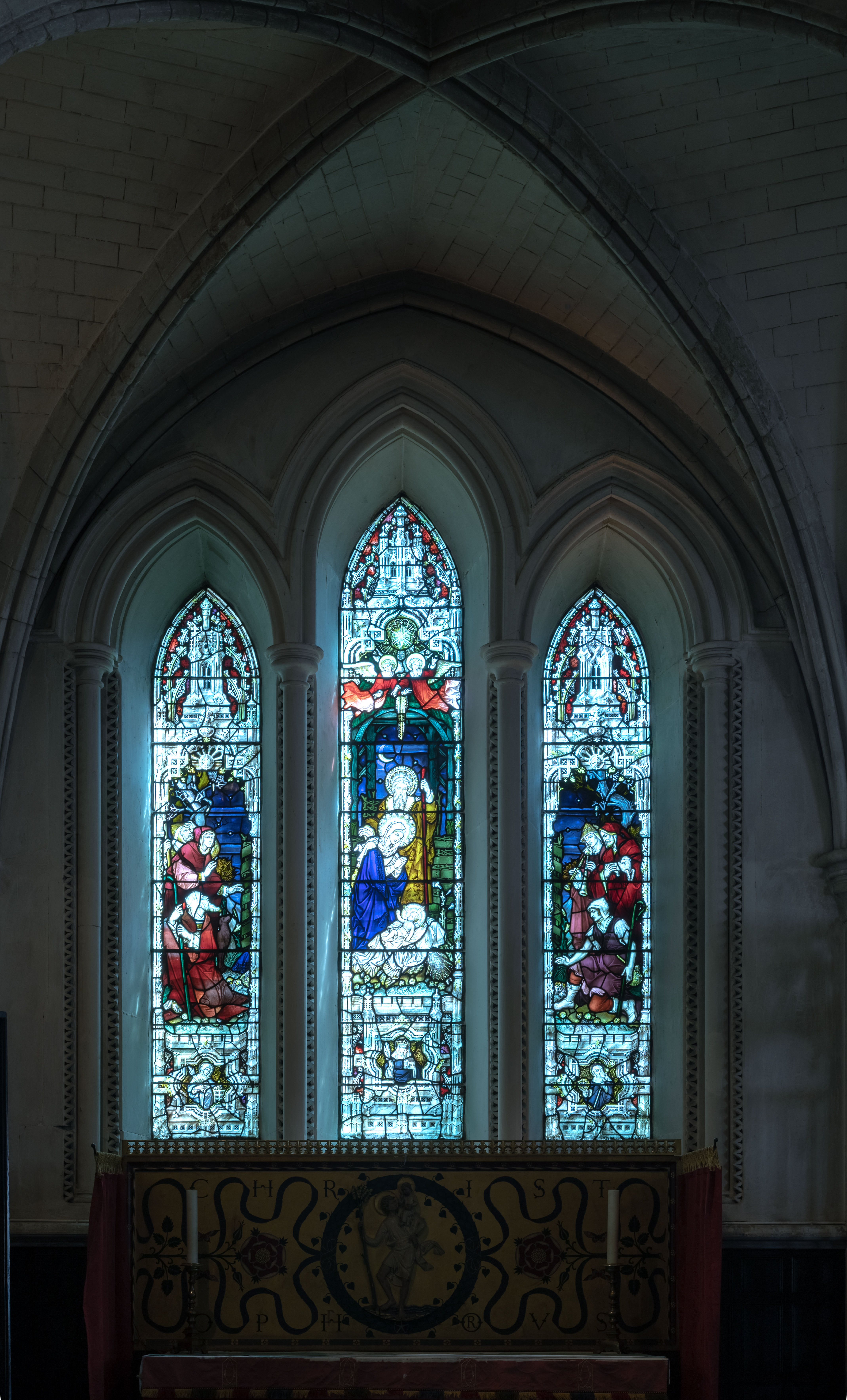 HOLIDAY, Henry, 1839-1927, of London.
Holiday trained at the Royal Academy School, where he was influenced by the pre-Raphaelites, particularly Burne-Jones, whom he succeeded as Chief Designer for James Powell and Sons in 1861. While with Powells he also designed for Lavers and Barraud, Heaton Butler and Bayne and other significant studios. In 1890 he founded his own workshop to give himself complete control over the execution of his designs. This paid off as he then produced most of his best work. In 1914 he closed his workshop and his designs were executed by Lowndes and Drury.
In addition to the West window of Southwark cathedral, Holiday's work may also be seen in Westminster Abbey, Waltham Abbey, Salisbury cathedral and in some 25 counties in the United Kingdom. Much of his work is in the USA, one of his best windows being in Holy Trinity Church, New York. There is a collection of his work I the Victoria and Albert Museum, London.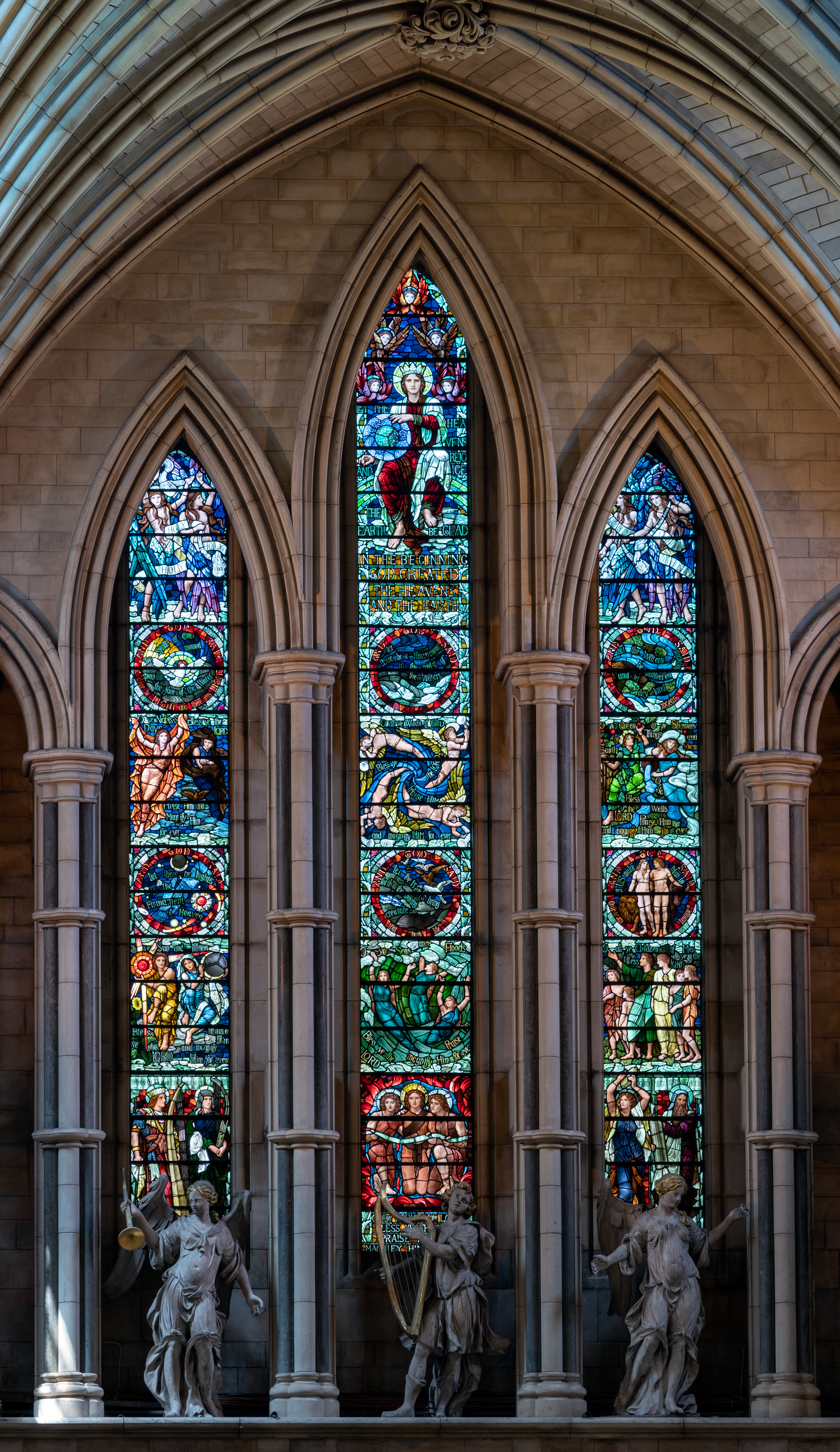 KEMPE & Co., 1866-1934, of London.
Charles Eamer Kempe, 1837-1907, was a pupil of G.F. Bodley the church architect. He trained as a stained glass artist with Clayton & Bell, and his first design to be accepted was then executed by them for Gloucester cathedral in 1865. He set up his own studio in London in 1866 and two years later formed Kempe & Co., one of the most productive stained glass makers of the 19th Century.
Kempe's work is probably one of the most easily identified of any from a 19th/20th century studio, thanks to his personal involvement in designs to a very high standard and maintenance of those standards by Chief Designer John Lisle who was with Kempe for forty years. The Kempe style was closely copied by Herbert Bryans, a pupil of Kempe.
From 1875 Kempe sparingly used his maker's mark - a red shield bearing three gold wheatsheaves from his family arms. From 1895 he usually used a single wheatsheaf, although there might be two or even three separate marks in one window.
On his death in 1907 his distant cousin, Walter Tower, turned the firm into a limited company, C.E. Kempe & Co. Ltd. From that time the firm's mark became a 'tower' superimposed on a wheatsheaf.
The firm closed in 1934 having made windows for Canterbury and Southwark Cathedrals, York Minster, twenty other cathedrals and many churches throughout the United Kingdom; there are also 500 windows in fourteen foreign countries – nearly 4,800 in all.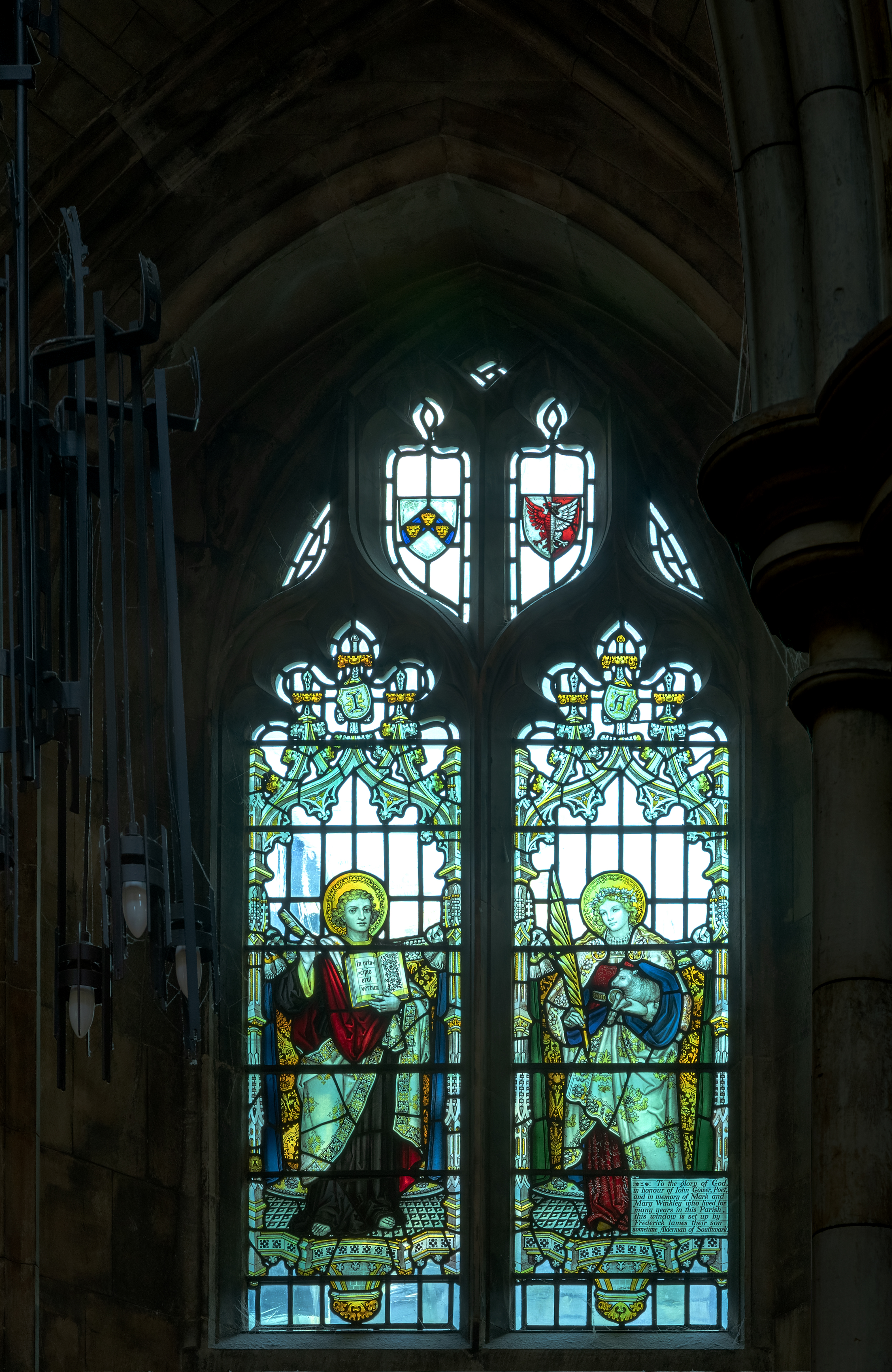 LA FARGE, John, 1836-1910, of New York.
La Farge, an American stained glass artist and muralist of French descent, was dissatisfied with the quality of execution that he wanted in glass, so he experimented with the material himself. By introducing opalescent qualities when the glass was molten, by letting the colours run into one another and by twisting and flattening the glass while it was till soft, he obtained many varied and graduated colours; twisting the glass also gave creases and ridges resembling drapery. The whole concept was to eliminate the use of painted work and allow the lead lines and contours of the glass to define the forma and outlines.
John La Farge and Louis Comfort Tiffany became the pioneers and masters of the American style of stained glass, dissimilar from European styles and having its own special qualities.
La Farge's signature may be found in the bottom right hand corner of a window.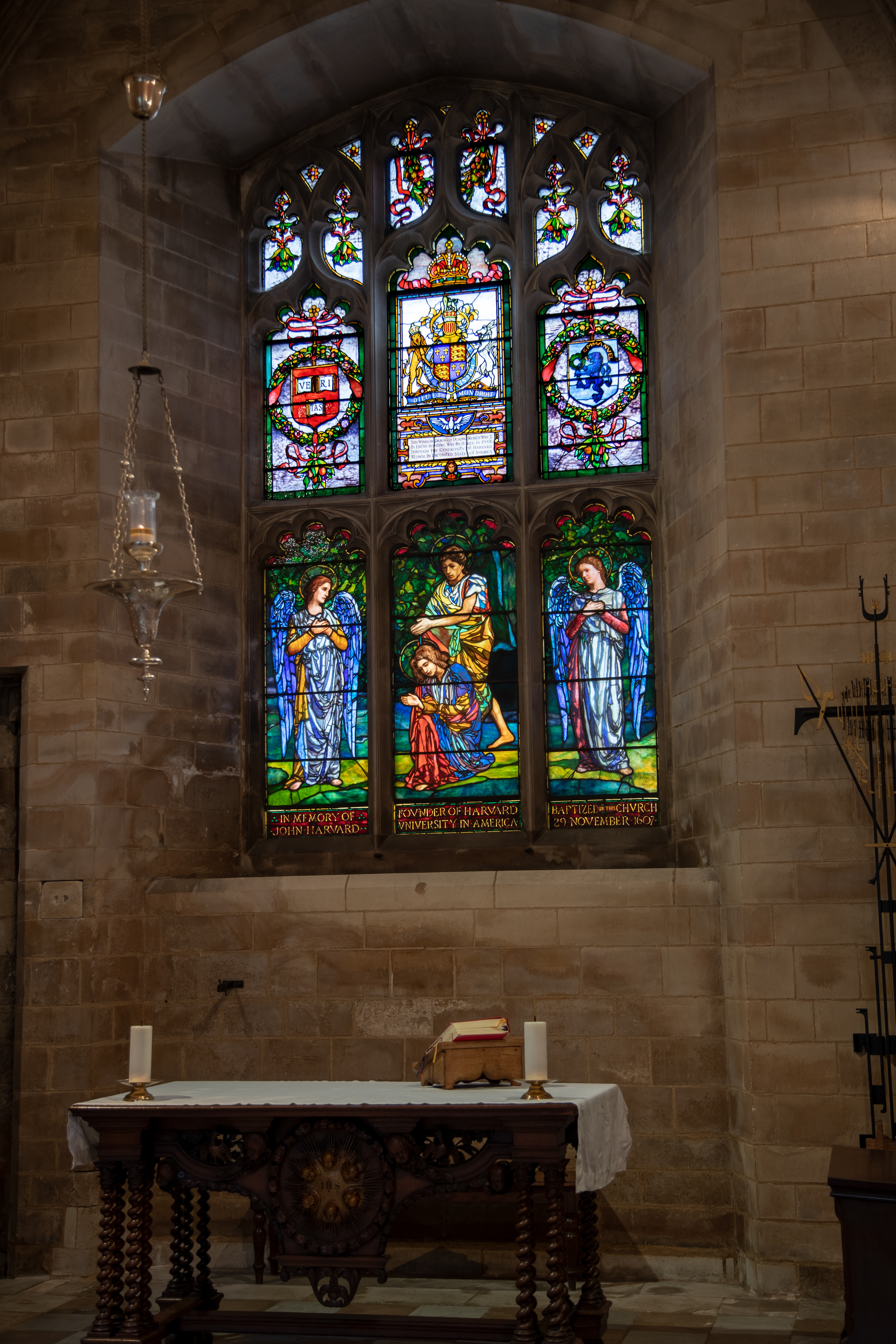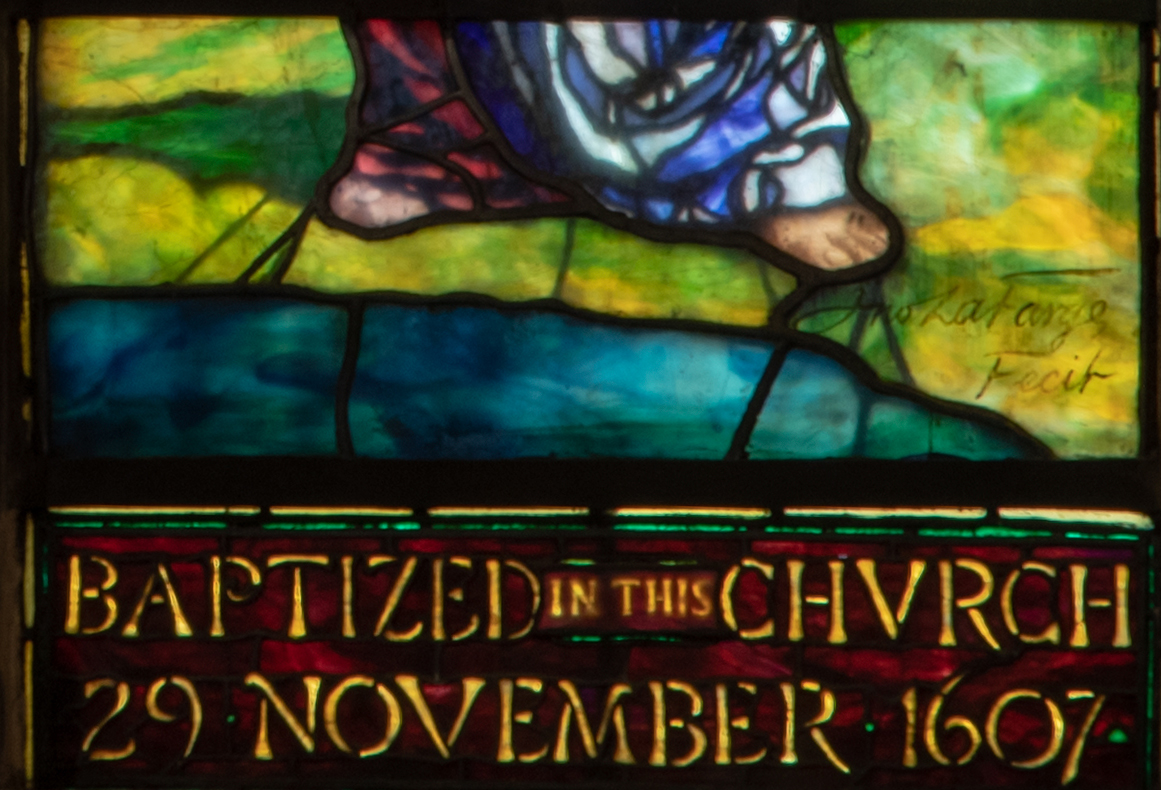 LEE, Lawrence Stanley, 1909-2011, of Penshurst, Kent.
Lee studied under Martin Travers at the Royal College of Art, and became Travers' studio assistant and later, his partner. He took over the practice when Travers died suddenly in 1948. The same year Lee was appointed as head of the Department of Stained Glass at the RCA. This gave Lee the opportunity to lead the team which was commissioned by Sir Basil Spence to design and execute the ten widely acclaimed nave windows for the new Coventry Cathedral. In these he collaborated with two former students, Geoffrey Clarke and Keith New. These windows established Lee's reputation as a designer and maker of modern, abstract stained glass with great colour resonance.
Lee went on to design and make stained glass windows for the Royal Military Academy, Sandhurst; Magdalene College School, Oxford; Glasgow University; King Charles the Martyr Church, Tunbridge Wells; Glaziers Hall, and many churches in the United Kingdom. His overseas commissions included ten clerestory windows for the church of St Andrew and St Paul in Montreal, as well as other works in Canada, Australia and New Zealand.
Lee's maker's mark is constituted by his initials in the bottom right hand corner, with the date of execution and including the initials of any assistants, referencing his lifelong commitment to education and training in the craft.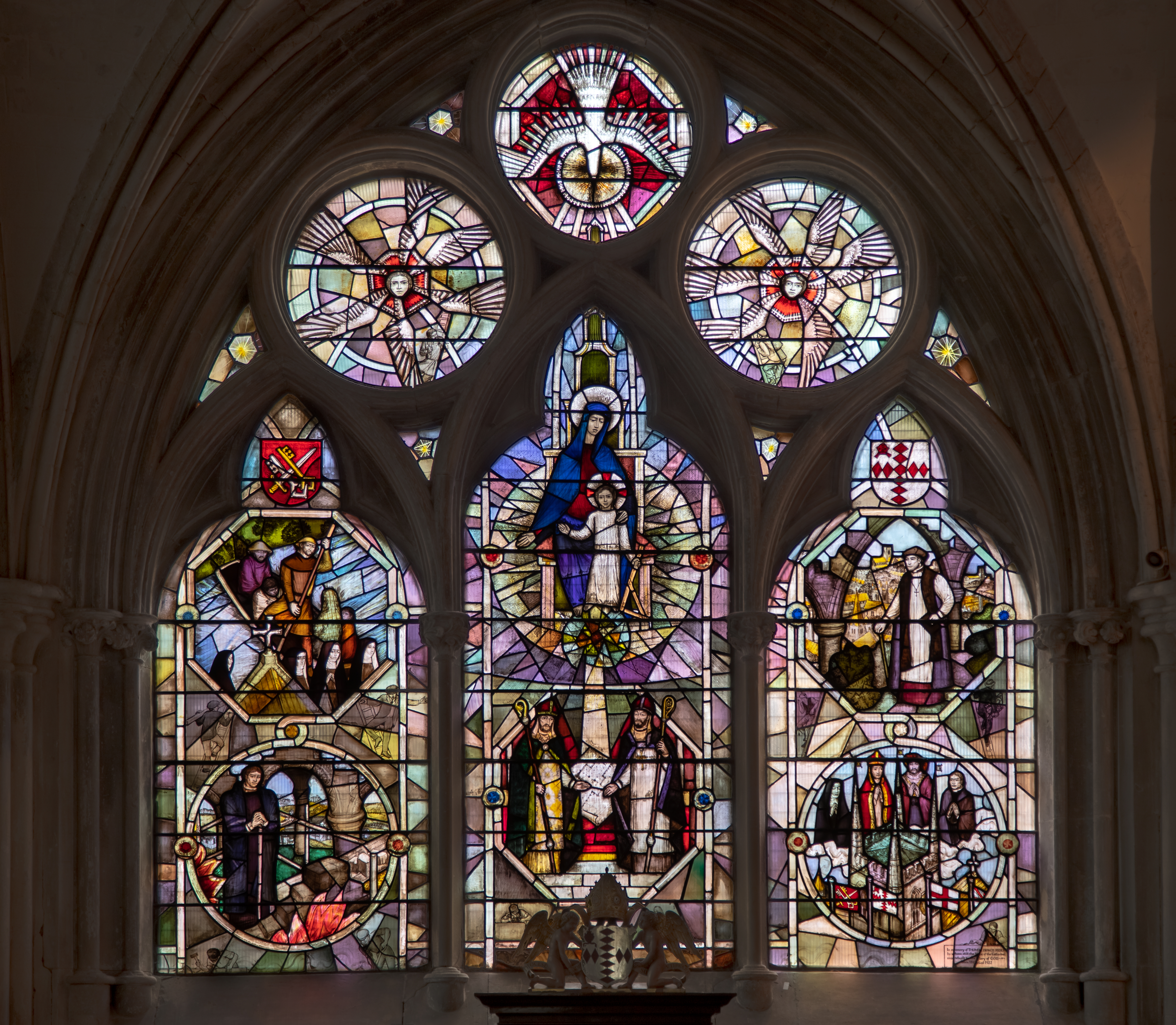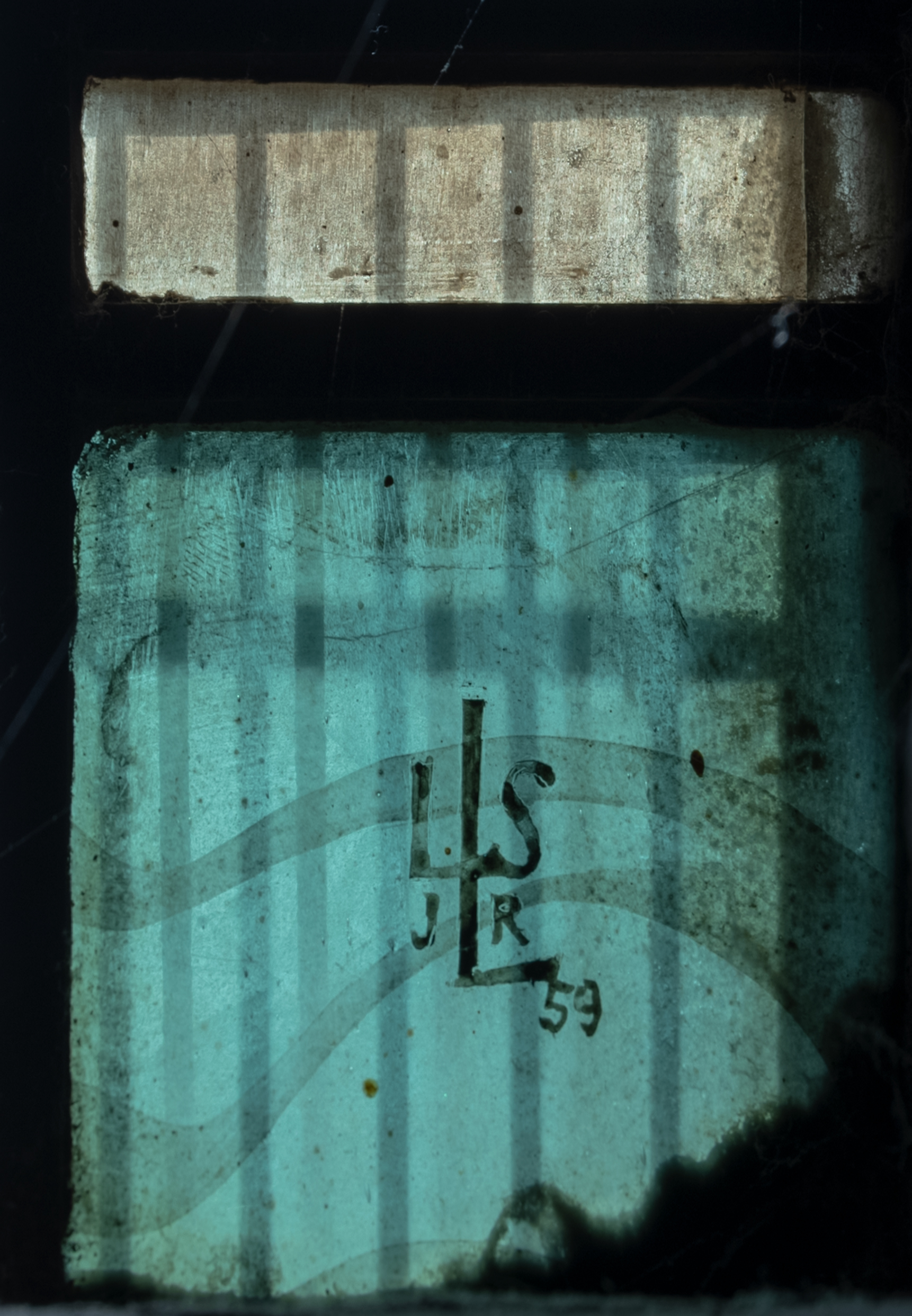 POWELL, James & Sons (Whitefriars) Ltd., 1834-1972, of London.
In 1834 James Powell (1774-1840) took over a glass making firm in Whitefriars in the City of London. In 1844 the firm began making stained glass, an operation which lasted until 1972. In about 1860, following lengthy experimentation by Charles Winston, Powells produced glass which was at least as good as medieval glass and which they used exclusively from then on.
Powell's early designers were Edward Burne-Jones and Henry Holiday. Following the move to Wealdstone, Middlesex in 1922, the firm became known as Whitefriars Studios, employing as Chief Designers successively James Hogan, Carl Edwards, Liddall Armitage, Rupert Moore and Alfred Fisher. When the studio closed in 1972 Alfred Fisher, Chief Designer, and Peter Archer, Chief Glass Painter, established Chapel Studio, King's Langley, Hertfordshire, which continues the traditions of this historic firm.
Whitefriars continued to carry out commissions for ecclesiastical and other establishments throughout the United Kingdom, not least for Westminster Abbey, St Paul's Cathedral, Southwark and Liverpool Anglican Cathedrals.
Whitefriars' firm's signature on most, but not all of their earlier work, appears in the bottom right corner as a standing figure of a white friar. This was superseded in the 1960s by a stylised silhouette of the friar.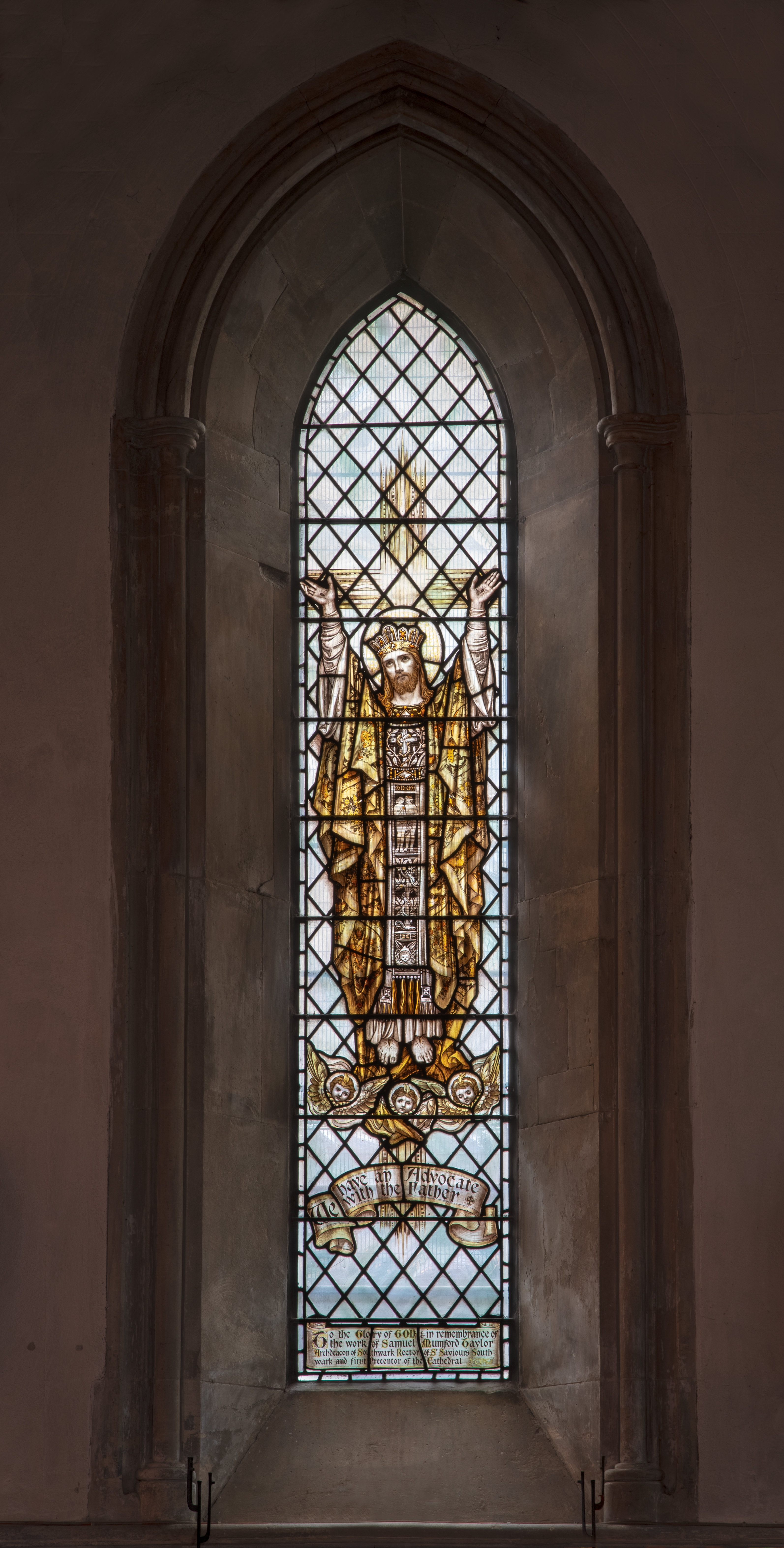 SHAPLAND, William T Carter, of Tolworth, Surrey.
Little is known of this 20th Century glass artist and his work. He seems to have been born into a farming family in Devon. In the 1950s he was a designer with Barton, Kinder and Alderson in Brighton before becoming freelance. In addition to the 'King David' window in Southwark Cathedral, he was responsible for the great West window in Chester Cathedral (1953), and windows in Peterborough; Kington Langley, Wiltshire; Elkstone, Gloucestershire; and Dulwich Christ Chapel (1969). He died in his 40s.
Carter Shapland adopted a ploughshare as his maker's mark: a triangular section wedge or spike transfixing a black disk, with sometimes WTCS and/or a date.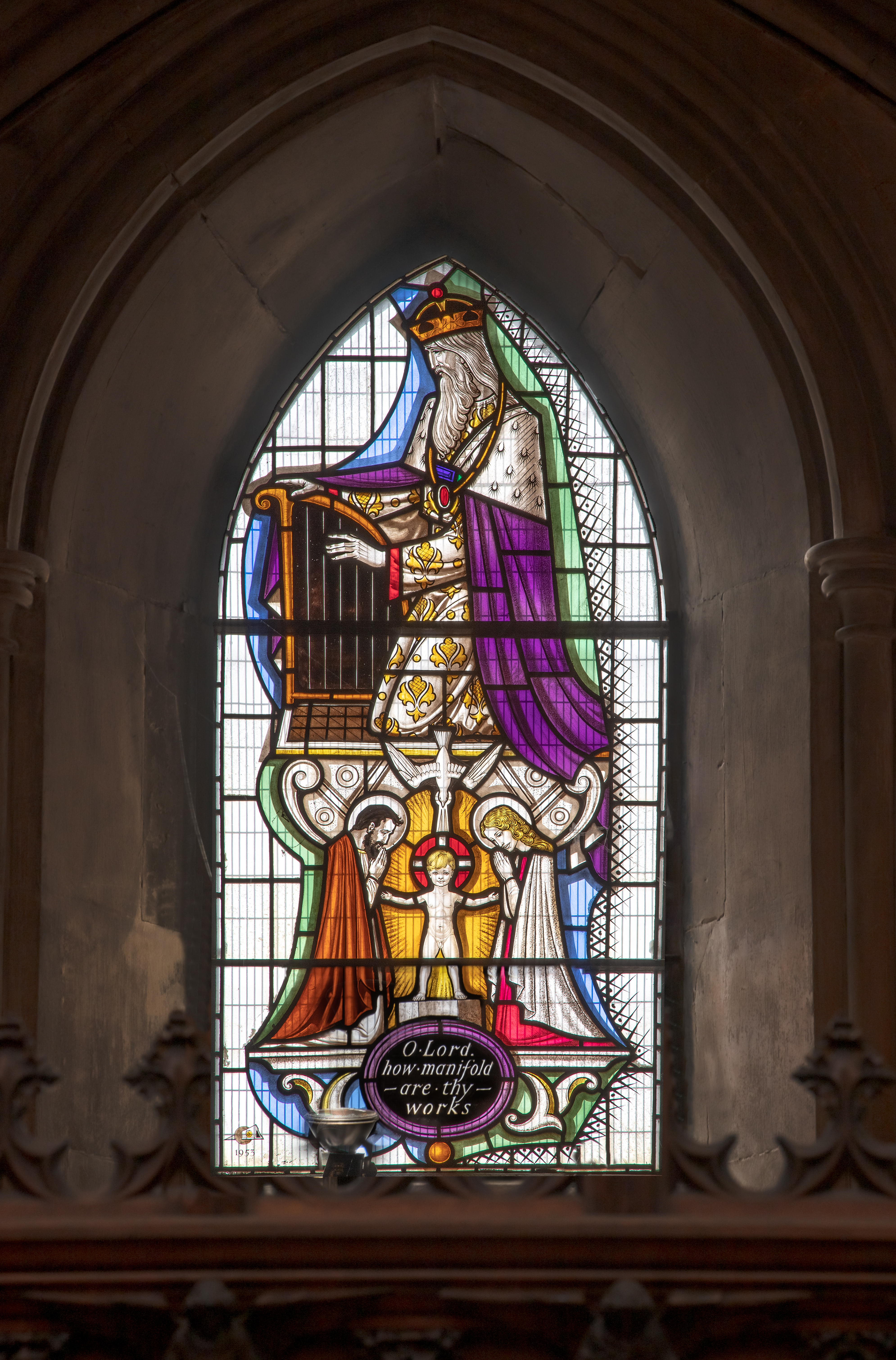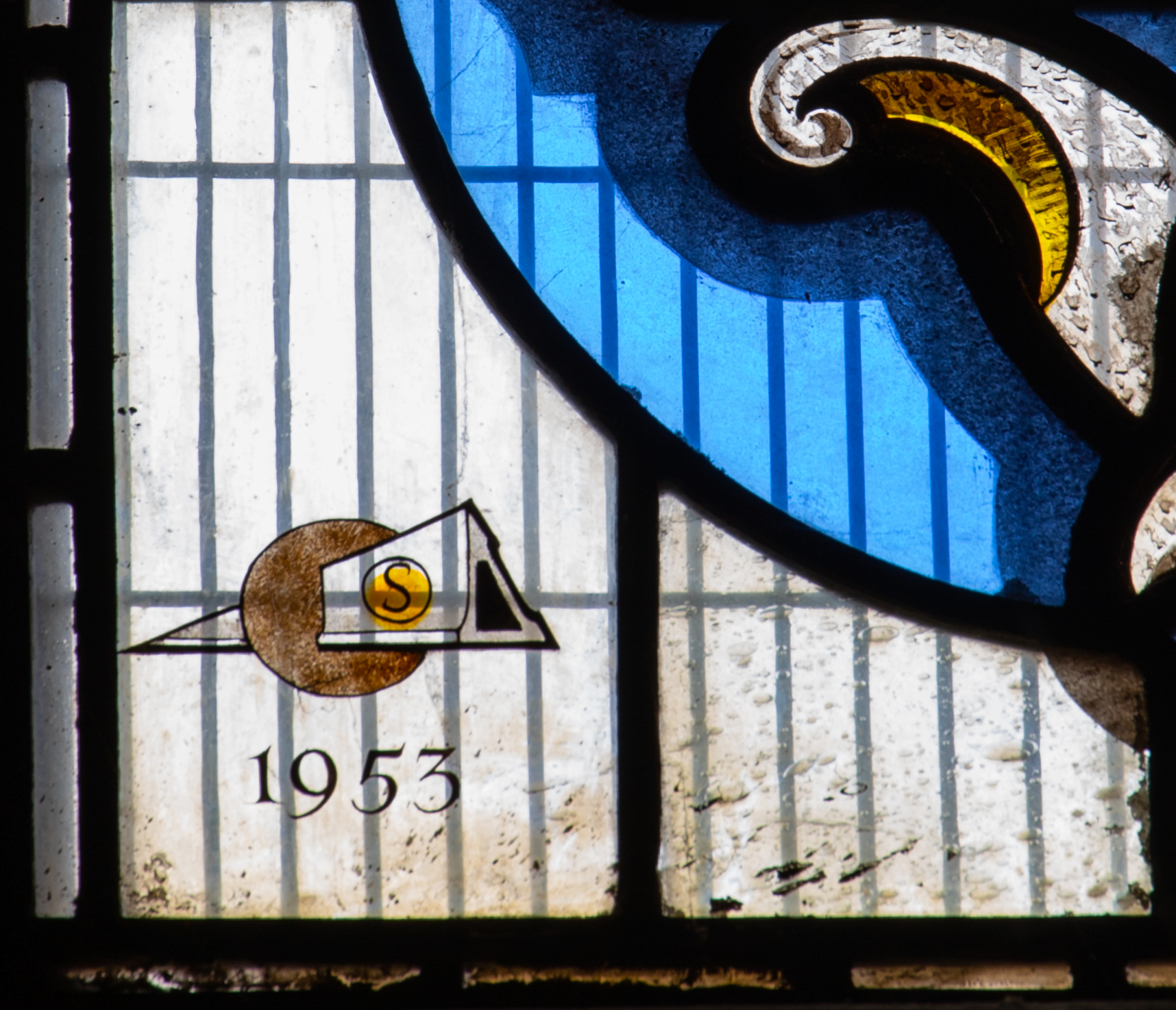 WARD & HUGHES, 1850-1930, of London.
Thomas Ward, 1808-1870, and Henry Hughes, 1822-1883, became partners c. 1850. Hughes was the firm's Chief Designer until his death; he was succeeded by a relative, Thomas Figgis Curtis, 1845-1924. The firm closed in about 1930.
In 1852 Charles Winston's newly developed glass (see Powell) was used for the first time in Temple Church in the City of London. Designed by Hughes, the windows were made by Ward. Unfortunately, very little of this glass survived enemy action in 1941. Other Winston glass by Ward and Hughes is in the North rose window of Lincoln Cathedral. The firm made other windows for Lincoln Cathedral, including the great East window and the North aisle. Their work can be seen in Gloucester and Lichfield cathedrals, the Guildhall Library and St Mary le Bow in the City of London, and many English churches including All Saints, Cambridge. The artistic design of later work can be of variable quality owing to the huge demands put upon their output in the Victorian period.
Ward and Hughes' work was usually signed with the firm's name in block capitals in the base of one light, with H. HUGHES added in the 1860s and T.F. CURTIS early in the 20th Century.

WEBB, Christopher Rahere, 1886 – 1966, of Guildford and (later) Orchard House Studio, St Albans.
Christopher Webb's father and grandfather were painters and engravers. His uncle was the architect Sir Aston Webb. Webb trained at the Slade School of Art and then became a pupil of Sir Ninian Comper. He designed fine windows throughout the first half of the 20th Century, including in St Lawrence Jewry and other City of London churches, the Shakespeare window in Southwark cathedral, the Baptistry windows in St Albans cathedral and for the Lady Chapel, Sherborne Abbey. Sixteen examples of Web's mature work dating from 1935-1948 are in Sheffield Cathedral; among them are the unique series on the history of Sheffield in the Chapter House. His style is characterised by accuracy of detail and economy of line, the prominence of clear glass, his use of scrolls and foliage and fine silver stain.
Christopher Webb's early maker's mark is a Saint Christopher with his initials, usually placed in the bottom right corner of the window. His later windows, as at Southwark Cathedral, are signed with his name and St Albans. Christopher Webb only signed those windows he regarded as his best.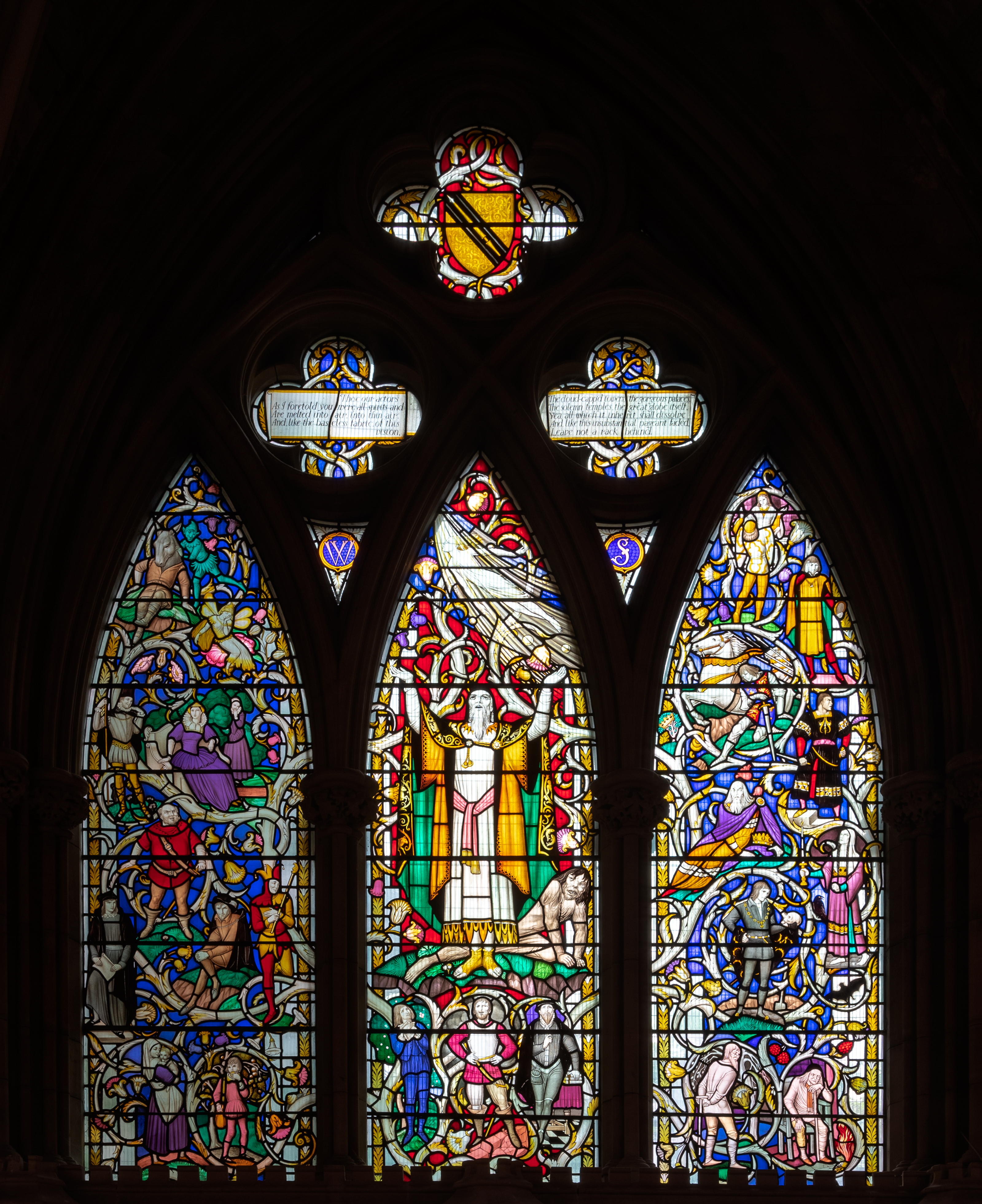 YOUNGER, Alan, 1933-2004, of London.
One of the most important stained glass artists of the post-War period, Younger trained with Carl Edwards and Lawrence Lee before setting up his own glass studio in South London. His many works include three nave windows in Chester Cathedral, the Bede window in Durham Cathedral and a large rose window in St Albans cathedral (1989). The large window in the Henry VII Chapel at Westminster Abbey (2000) was Younger's other major achievement. He also designed and made stained glass for Durham, Chester and Gloucester cathedrals, and for the chapel at RMA Sandhurst. His windows can be seen in the parish churches of Boldre, Cranbourne, Haselbech, Luton, Woodford and Worth Matravers, Dorset.
Younger's maker's mark is a simple arrangement of his initials AY, often with date and usually in the bottom right hand corner of the window.