Southwark Cathedral has a unique collection of 19th, 20th and 21st Century stained glass windows
Designed by some of the foremost glass artists of their time. Although over half the windows were destroyed in 1941 during World War II, many have since been replaced with new designs. The South nave windows now remain clear to admit maximum light into the interior.
A traditional stained glass window is composed of individual pieces of coloured glass, the dark lines and shading produced by the delicate application of brown or black glass paint. All the pieces are held within an intricate network of h-section lead strips (called calmes) which have been soldered together. Wider leads indicate the key elements of the design. Transparent gold or amber details, e.g. haloes, are the result of painting and firing 'silver stain' onto the glass. The window is held in place by copper ties attached to bars fixed into the surrounding stonework.
When you visit the Cathedral, on entering look generally at the ambience of the space and how all the windows illuminate the interior. Your first impression of a stained glass window is usually from a distance. It can be from a few metres to many metres away. As you walk around, aim to focus on one window at a time. At this distance you will get an impression of the overall design and colour choices of the artist and the building context.
Then look at the window close up. Many in this Cathedral are very accessible, although the use of binoculars may help. The colour in the glass was introduced when the sheet was in its molten state during manufacture. The designer selected the colour palette for the window. The glass painter added the fine detail, e.g. figures and foliage, in dark paint with silver stain highlights, fired more than once in a kiln. Glass paint modifies the external daylight which brings the window to life.
Stained glass windows are very often gifts from family, friends or colleagues. Some commemorate local people who have enhanced the lives of others, others may be War Memorial windows. They may also celebrate public occasions such as Royal Jubilees or the Millennium.
The subject matter is founded on Christian beliefs and many include Biblical references in exquisite detail.
Please use the sub- menu to view our wonderful stained glass in the Cathedral.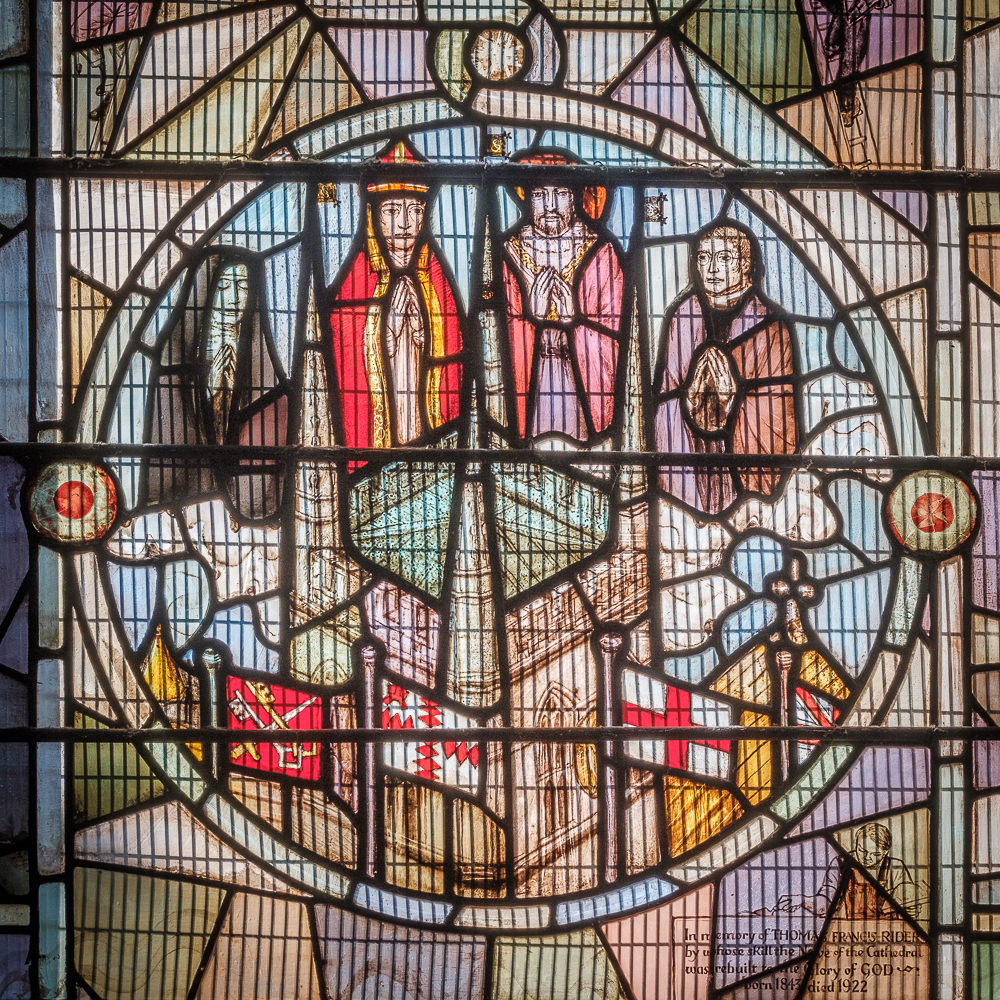 Acknowledgements
Authors: Phillida Shaw and Caroline Swash
Photography: David Whyman and Aidan Cusack
Sources: Henry Holiday: Stained Glass as an Art (1896) Ken London: Stained Glass in Southwark Cathedral (1993) David Payne & Doreen Brooker: Southwark Cathedral (2012) ISBN 978185759775 2 Caroline Swash: The 100 Best Stained Glass Sites in London (2015) ISBN 9780954105525 Ruth Taylor Jacobson: ' Stained Glass' newsletter of the BSMGP, issue 78 Autumn 2017: Review: Walk and Talk with Caroline Swash: 'Stained Glass Artists of Southwark Cathedral'.