The Darkness before the Dawn
Lent
Lent, the 40 days leading to Easter, is traditionally a period when Christians are invited to take time to strengthen and deepen our relationship with God, through a blend of prayer, simple living, and study.
Lent Art Installation
14 February - 30 March
Doubt by Suzie MacMurray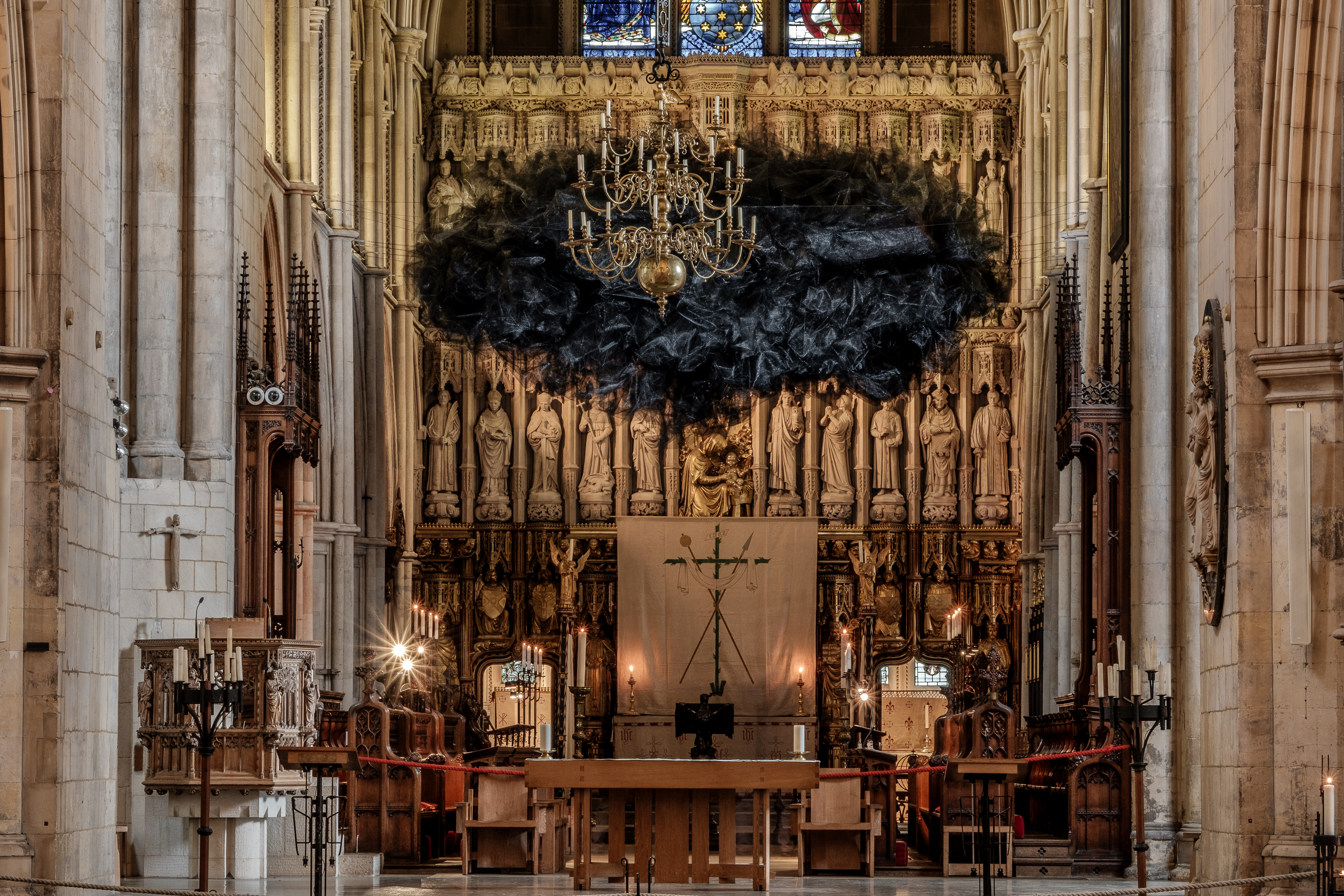 Susie conceived the piece Doubt through the connections of the weight of darkness and uncertainty suspended from above.
It stems from a conversation Susie had with a soldier who had served in Afghanistan at the time that she was installing her piece Cloud in the Great Hall, Winchester in 2014. They talked about PTSD and the effects that the pressure of extended periods of tension and anxiety have on the mind. The soldier spoke about how all the time he was in the war zone he felt a dark weight hovering behind his neck. It made Susie think fo 40 days and 40 nights.
Ash Wednesday - 14 February
'Remember you are dust, and to dust you shall return. Turn away from sin, and be faithful to Christ.'
Lent begins, the time of fasting, pentitence and preparation kept by Christians as we prepare for Easter.
8.15am
Eucharist with ashing
12.45pm and 5.30pm
Choral Eucharist with ashing
Mothering Sunday - 11 March
11.00am
Choral Eucharist with baptisms and the distribution of flowers.
Saturday 24 March
7.30pm
Merbecke Choir Concert - St John Passion Concert
The Cathedral's Merbecke Choir will be joined by the Monteverdi String Band and a fantastic selection of soloists for this performance of Bach's St John Passion.
For more information and tickets please visit here
Holy Week
From Palm Sunday to Easter Day we follow Jesus in the last week of his life.
Palm Sunday - 25 March
8.45am
Morning Prayer
9.00am
Eucharist - Congregational reading of the Passion
11.00am
Palm Procession and Choral Eucharist - The Proclamation of the Passion. This service begins in Borough Market .
3.00pm
Choral Evensong with the installation of John Bell as Canon Theologian.
The Cathedral Choir sings the choral gem of the Book of Common Prayer on the day when we reflect upon on the triumphal entry of Jesus into Jerusalem - on a donkey - and contemplate the coming days.
6.00pm
A meditative service of music and readings for Palm Sunday
Monday 26 March - Wednesday 28 March
Holy Week Retreat -The Darkness Before the Dawn
10.30am - 4.00pm
Join us for a pilgrimage journey in our own holy space; a week in which we can take some time out of our normal routines and busy schedule, a time to be reflective, prayerful and creative.
With our Holy Week Preacher, John Bell from the Iona Community.
For further information about this retreat and how to book tickets please visit here
Monday 26 March - Wednesday 28 March in Holy Week
8.00am
Morning Prayer
8.15am
Eucharist
12.30pm
Midday Prayers
12.45pm
Eucharist with hymns and address
5.30pm
Evensong
6.15pm
Silent Prayer in the Cathedral
7.00pm
Compline
Maundy Thursday - 29 March
8.00am
Morning Prayer
11.00am
Chrism Eucharist - With Blessing of Oils
5.30pm
Evening Prayer
6.30pm
Commemoration of the Last Supper and Watch of the Passion until midnight
Choral Eucharist commemorating Jesus' Last Supper, with the washing of feet and breaking of bread, followed by the stripping of the altars and silent prayer in our 'garden of the watch'. In the retrochoir until midnight.
Good Friday - 30 March
9.00am
Morning Prayer with the Litany (No Eucharist)
10.15am
Walk of Witness and Pop-Up Church
Join our neighbours at Southbank Churches for this walk, concluding with a service at Waterloo Station. Meet at Christ Church, Blackfriars Road SE1 8NY.
The Three Hours
12.00pm
The Preaching of the Passion
A moving and thought-provoking service of readings, addresses and music on this, the darkest day.
1.30pm
The Liturgy of Good Friday until 3.00pm.
6.30pm
Good Friday Concert: Durufle's Requiem and Lenten Motets
Join us this Good Friday for the Cathedral Girls' Choir and the Gentleman of the Choir Easter Concert, who will be singing a programme of Lenten Motets and Maurice Durufle's beautiful Requiem. Tickets available from here
Holy Saturday - 31 March
9.00am
Morning Prayer with the Litany (No Eucharist)
4.00pm
Evening Prayer
Easter Sunday - 1 April
5.50am
Dawn Vigil and Easter Liturgy with Initition
Through the last darkness of the night we hold a vigil to hear of God's saving acts through history. As Easter day dawns, a bonfire is lit, and the Cathedral is adorned by the brightness of candles as we celebrate with joy the risen Christ.
8.45am
Morning Prayer
9.00am
Eucharist with Hymns
11.00am
Choral Eucharist
3.00pm
Solemn Evensong
6.00pm
Compline