The Woman at the Well Icon
The Retreat Association has a new icon as an enduring reminder of the value of retreats and reflective prayer which is on display at the Cathedral
In St John's Gospel there are some wonderful and quite deep stories of encounters that Jesus had with people that none of the other evangelists include in their gospels. One of these stories is of the woman at the well. You can read the account at John 4.1-42. It is well worth reading. On our cathedral pilgrimages to the Holy Land we usually go to Nablus the modern day city in the West Bank where Jacob's Well, the scene of this story, is to be found. We know it is the well that John talks of because there is only one well in the city. You enter the church and go into the crypt. There is the well with a winding mechanism over the top of it and a bucket attached. Someone is invited to lower the bucket and draw water. The rest of us stand watching. The well is deep as it says in the gospel account, so it takes a while before you hear the splash and before the rope can be rewound to bring the bucket, now full of clear cool water, to the surface.
An elderly priest, Fr Anastasios, sits in the corner. He sells cards and icons, and little jars of water, to pilgrims hungry for something to take home from this very special place. We are delighted therefore that we are hosting the icon of the woman at the well which is the Retreat Association Icon. The Retreat Association was founded to encourage people to take time out, to rest and reflect, to encounter Jesus and interrogate their faith. This icon will encourage us to sit and stay, to think and pray.
You can see the icon between 8 October and 3 November and in the Cathedral Shop you will be able to obtain copies of the icon itself.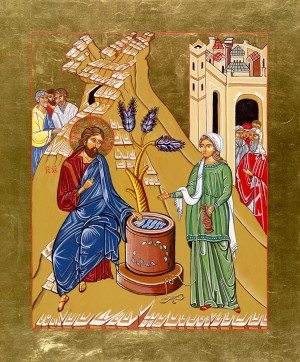 The next Southwark diocesan pilgrimage to the Holy Land in 2020 will give people the opportunity to visit this and other sites. Details can be found here.
The Retreat Association
The Retreat Association has a new icon as an enduring reminder of the value of retreats and reflective prayer.
Iconographer John Coleman, also known as Ikonjohn, has produced icons in over 200 churches worldwide including York Minster, Exeter, Truro Cathedrals and Sherborne Abbey.
John has very generously created an icon ' The Woman at the Well' for the Retreat Association.
Icons have been used for centuries to depict Bible stories and offer a way of entering into the story through prayer, stillness and contemplation – practices that lie at the heart of our work.
The theme of our icon is The Woman at the Well (John 4:1–42). This has been chosen for its universal appeal and the many different themes associated with retreat and spiritual direction.
For further information about the Retreat Association please visit their website here