Cathedral to Re-Open on 4 July for Private Prayer and Reflection
This will be the first phase in the reopening of the Cathedral which, along with all Church of England Churches and Cathedrals, has been closed since March 23 as a result of the Coronavirus pandemic.
Southwark Cathedral plans to re-open for Private Prayer on 4 July 2020. This will be the first phase in re-opening the Cathedral since closure in March due to the Coronavirus pandemic.
A limited part of the Cathedral will be open every day from 10.00am – 3.00pm for individual prayer and reflection. The short video below and further information will help you prepare for your visit.
At this time the Cathedral will not be available for services or general sight seeing and the shop, cafe and meeting areas will remain closed until further notice.
This limited reopening has been planned in accordance with Government guidance and will be continually monitored and updated to ensure safety. More details on our plans to keep our visitors, staff and volunteers safe are listed below.
The Cathedral has implemented a one way route (see map below), with access through the Churchyard Gate on Cathedral Street, opposite the Breadahead Bakery and exiting via the Millennium Courtyard on Montague Close opposite the River Thames.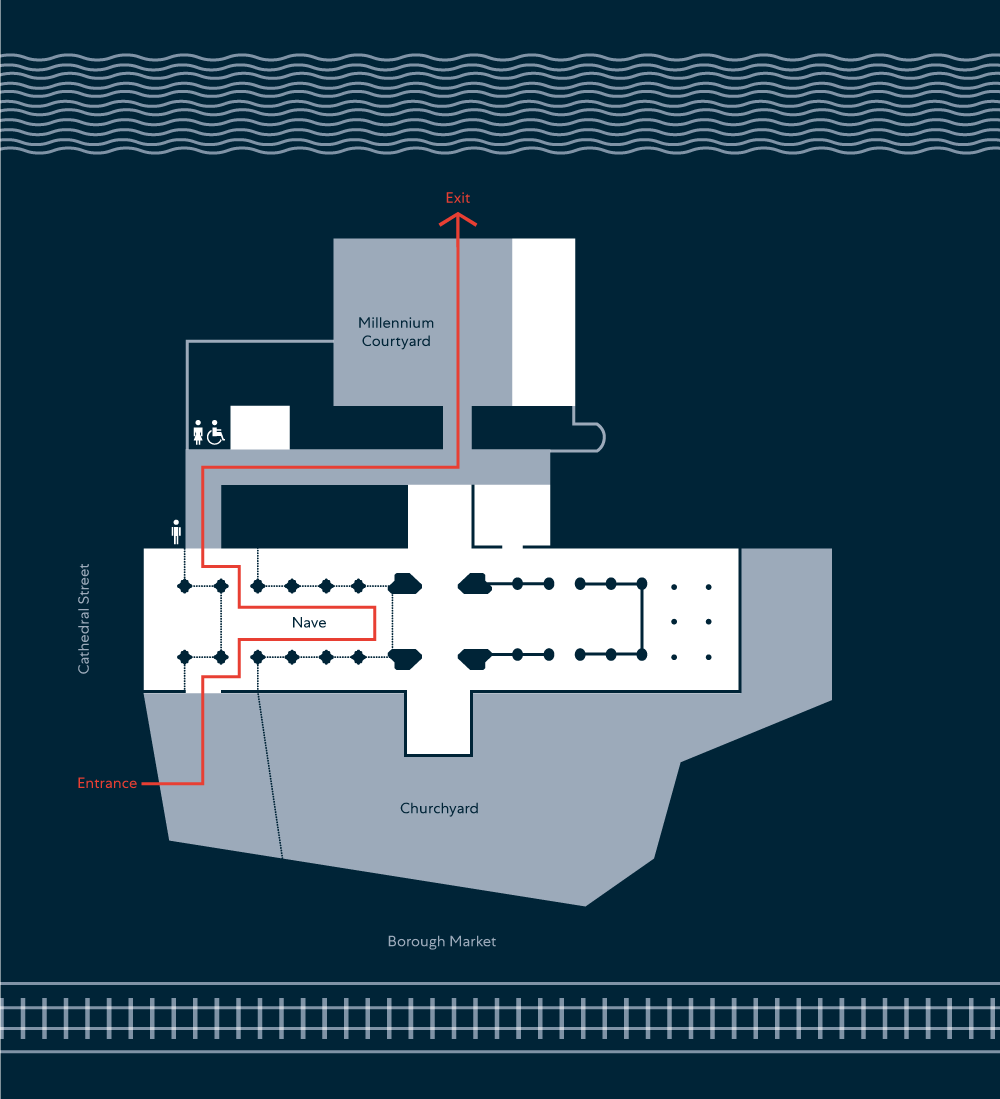 The Very Reverend Andrew Nunn, Dean of Southwark said;
"We are delighted to be taking this first step in reopening the Cathedral. Many people have said how much they just want to get into this sacred and special place to pray and think and spend time. This is a real opportunity for us to do that and in a safe and secure way. Online worship will continue until we are able to hold services again to which congregations will be welcomed with our usual enthusiasm."
Whilst services are unable to be held at this time, daily streaming of Morning and Night Prayer (Compline) from the Deanery can be accessed on our Facebook page and our website. Full details can be found here.
You can also continue to send your prayer requests by email here
We will continue to update our website with new information regarding further re-opening including holding public worship.
How are we keeping you safe?
We are committed to the continued well being of all those who visit, work and worship at Southwark Cathedral.
In our on-going efforts to assist our community in preventing the spread of COVID-19, we have implemented the following enhanced protocols and procedures you will notice during your time with us.
A designated entrance, at the Churchyard gates on Bedale Street and designated exit through the Millennium Courtyard on Montague Close
A one way route through the Cathedral that reinforces physical distancing guidelines
A limit to the number of people in the Cathedral at one time – please note you may be asked to queue
The provision of hand sanitizer stations throughout the site
Freely available toilet facilities to promote frequent handwashing
Card and contactless only payment facilities
Frequent cleaning and disinfecting of touchpoints including handles, rails, seating and toilet facilities
A copy of our Risk Assesement for public use of Southwark Cathedral during the Coronavirus (Covid-19) pandemic can be found here
What can I do to help?
Please visit us at another time if you or a member of your household or group are feeling unwell
Wash your hands often using soap or water for 20 seconds or use hand sanitiser
Wear a face covering
Stay at least 2m away from others and follow the one way route around the Cathedral
If you need to cough or sneeze, please do so into your elbow, not in your hand or the air
Above all, we look forward to welcoming you to the Cathedral from the 4 July.